Lets face it, the holiday season is a double edged sword... Yes, its beautiful, and festive, and merry and all that, but more often than not, these positive feelings are inevitably bogged down by feelings of pressure, stress, family woes, stress, obligations and stress... You know what I'm talking about? It breaks my heart... the holidays are all about embracing the merry season, having FUN, cheesy [or classy] decor, the shopping, the music, the FOOD... So it stinks when I see people stressing out, but I always explain, the simple trick planning. Planning!! That's it! Just make a little extra effort to work ahead of yourself. This is especially easy and true in the FOOD department, my favorite part!
I have a few little tips (and recipes) for making the most out of the holidays around the dinner table, or buffet, or hors d'oeuvres spread!
#1 Peek in the pantry
First things first, when it come to planning your holiday entertaining feasts, scope out your pantry inventory. This may seem obvious, but more often than not, people will overspend on ingredients and buy entirely new stocks of food, when they may already have 90% of these items already on hand. Ask yourself, "What do I have a lot of?" Rice? Pasta? Bread, stored away in the deep dark depths of your freezer... Think about canapés, or bruschetta, topped with roasted seasonal squash and apples, drizzled with honey. Or if rice is in high stocks: Arancini! Italian rice balls are delicious little hors d'oeuvres, which can be made with any combo of sautéed veggies, melty cheese and herbs. Pasta is always a crowd-pleaser, I love serving a big platter of pasta carbonara.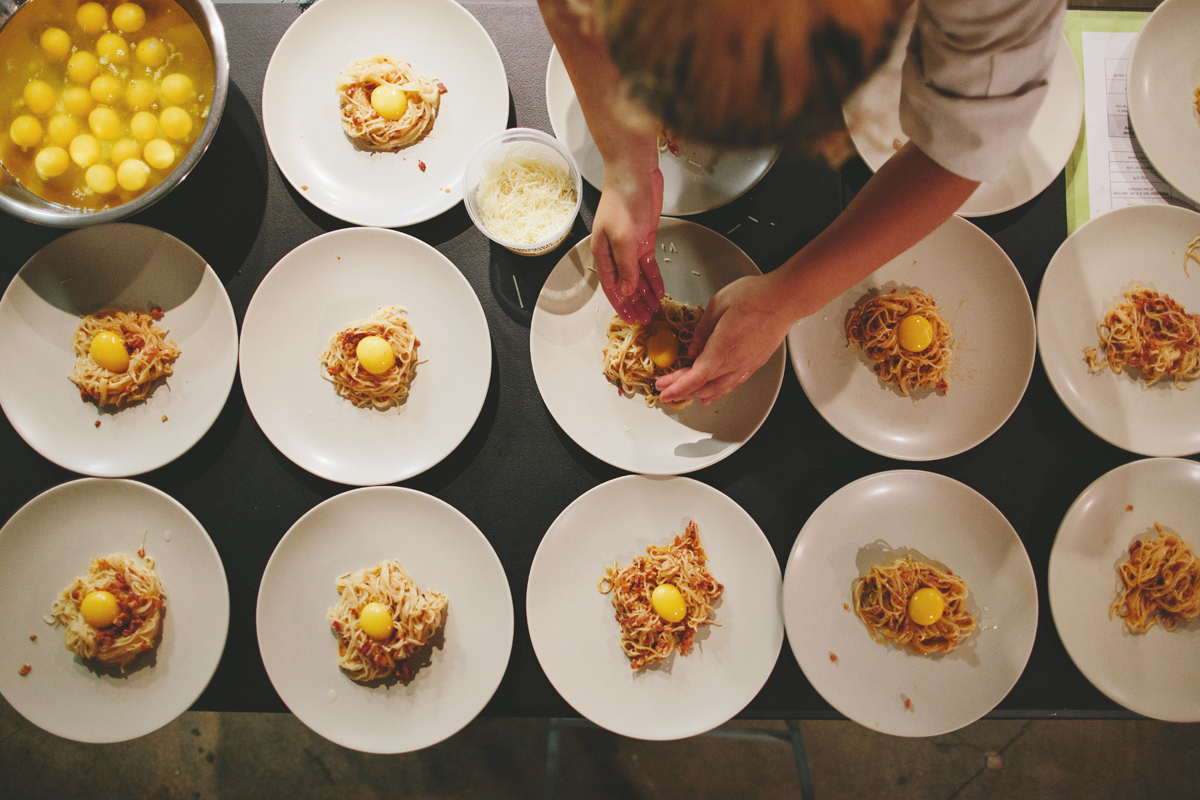 For a stunning presentation, I place raw organic egg yolks sitting atop mounds of steaming guanciale-laden noodles, ready to be stirred into the pasta, creating a velvety, umami-rich sauce.
Arancini with wild mushrooms
Servings: 15 to 18 rice balls // Total time: 40 minutes
Ingredients:
1 cup Arborio rice (risotto rice)
2 cups water
1 tablespoon salt
2 egg yolks
2 cups grated or shredded Parmigiano-Reggiano cheese
3-4 T extra virgin olive oil
3 cloves garlic, grated
2 shallots, minced
3 sprigs fresh thyme
8 oz mixed wild mushrooms ( I like oyster, cremini, shiitake and maitake)
1 1/2 T balsamic vinegar
1/4 cup chopped Italian flat-leaf parsley
3 cups canola oil for frying
2 cups panic bread crumbs, or dried plain bread crumbs
1 1/2 cups cubed fontina cheese
Directions
In medium pot, combine the rice, water and salt and bring to a simmer. Cover the pot and let the rice cook for 12 minutes, or until the water is absorbed. When done, spread rice out on a baking sheet. Use a rubber spatula to move the rice around, allowing the steam to escape and the rice to cool. If the rice gets a little overcooked, that's okay, in fact it will make for better arancini!
Heat a large sauce pan over medium-high heat, add extra virgin olives oil. While skillet is heating, quickly rinse mushrooms, and dry. Mince shallot, and rough chop the mushrooms. Add the mushrooms, shallot, and thyme to the hot pan. Sauté for 3 minutes shaking once or twice, to get even deep caramelization on all sides of mushrooms. Add the grated garlic and cook another 30 seconds-1 minute, watching not to burn the garlic. De-glaze with vinegar, stir, and remove from the heat. Remove the thyme, and pour into a large mixing bowl. Add to the mixing bowl the egg yolks, Parmigiano-Reggiano cheese, chopped parsley, and the cooled rice. Use a rubber spatula to incorporate these ingredients. It will be very sticky. Separately, place the bread crumbs in a medium bowl.
In a 4-quart pot, heat the oil to 350 F, verifying the temperature with a candy thermometer. Set up the sheet tray next to a bowl, with the cubed fontina cheese and the bowl of bread crumbs. Use a 2-ounce ice cream scoop to portion out the rice. Roll 1 scoop in wet hands to shape it into a ball. Push two cubes of fontina cheese into the center of the ball. Reshape the rice to close the ball around the cheese. Coat each ball with bread crumbs and set on the sheet tray until ready to fry. Fry 4 or 5 rice balls at a time for 2 to 3 minutes, until they're golden brown. Remove from oil using a slotted spoon and set to drain on a paper towel-lined tray. Serve with your favorite marinara sauce, or sour cream, mixed with a little sherry vinegar.
#2 Cheeseboards are a hosts best friend


Cheeseboards are the ultimate double duty dish-- they work beautifully for a starter/first course, and an elegant ending to a meal with or without a sweet accompaniment. One of the best, and easiest , ways to be conscious while entertaining, is to simply use local cheeses! A few favorites, from nearby local California creameries are:
-1- Humboldt Fog, from Cypress Grove Chevre— A classic in and of itself, this delicious piquant, creamy goat cheese works well by itself, or paired with a little honey and fig jam.
-2- Aged Goat Gouda, from Central Coast Creamery. This aged goat is a bit crumbly, complex, and salty; a perfect cheeseboard addition.
-3- Point Reyes Blue, from Pt. Reyes Farmstead Cheese Co. This classic blue cheese has gained accolades nationwide for is creamy, funky perfection. A blue cheese is always a welcomed cheese board candidate
-4- Last but not least, Mt. Tam, from Cowgirl Creamery. This classic California cheese, named after the majestic Mt. Tamalpais, is an earthy, buttery, triple cream, made from California Straus cows milk.
So now you've got the cheese selection down, what about add-ons? As for accompaniments, simply visit your local farmers market! In the fall, honey crisp apples and a few varieties of pears are perfect. Add in some marcona almonds, a seasonal fig preserve from a family owned business, or a fair-trade honey like this one and you're in business.
Presentation seals the deal: use an heirloom cutting board, or even a big slab of slate scrap from a nearby home improvement store for an inexpensive but stunning presentation of your deliciously curated board!
#3 Send guests away with a little something for later
One of my favorite elements of dining at high end restaurants, is the take away treat. Many 5 star restaurants will send you away with a small delicately wrapped foodie gift for 'breakfast' the next day. I love that element of thoughtfulness, its the ultimate sign of real hospitality: meeting and exceeding your guests expectations, by anticipating their wants or needs. Not to mention, it's always a surprise! At Bang Bang Brunch, we employ this same idea and present each of our brunch guests with a take-away pastry for their breakfast (or late night snack) the next day.
To do this in your own home: Once your evening has come to a close, present each guest with a small paper bag, or box with a baked chocolate banana muffin, or salted chocolate chip cookies. Even a little satchel with marshmallows and cocoa and sugar (for a diy hot chocolate) is a lovely and heart-warming gesture. The treat doesn't have to be elaborate, it's a sign of thankfulness and a warm farewell.